Sunday, Nov 20th is going to be National World Record Day.  Guinness has quite a few World Records related to tea. Here are 10 interesting tea-related world records.
World's Largest Tea Bag
Created in Jeddah, Saudi Arabia on September 20, 2014, the world's largest tea bag weighed over 550 lbs.
World's Largest Cup of Tea
Slightly over 1,057 gallons is the world's largest cup of tea. Naturally, it was produced in Sri Lanka.
World's Largest Knitted Tea Cosy
Residents of Ashley Park Nursing Home in Guilford hold the world's record for largest knitted tea cosy.  Consisting of 1924 squares and standing almost 13 feet high and over 36 feet in circumference, the record was gained in April 2009.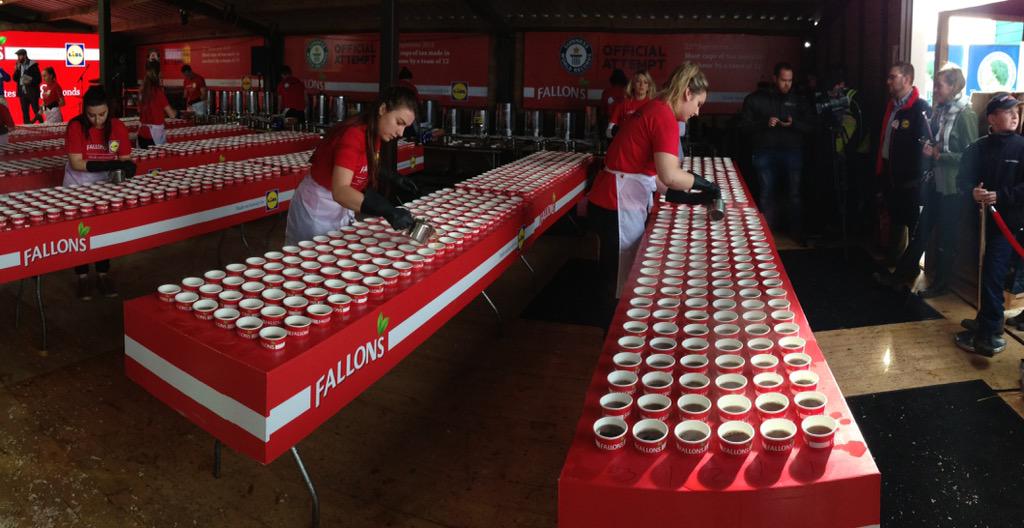 Most Cups of Tea Made in 1 Hour
The site of the National Ploughing Championships, Ratheniska, County Laois, Ireland was the venue for the world's record for most cups of tea made in 1 hour by a team of 12. The record was gained on September 22, 2015, by the brand Lidl Ireland, who used their own tea for the record. Even more impressive was the fact this was completed in only 43 minutes.
World's Largest Collection of Tea Bag Holders
Malakoff, Texas resident Mimi Wilfong holds the world's record for the largest collection of tea bag holders  Wilford has 116 different tea bag holders.
World's Largest Teapot
Measuring over 13 feet tall by 8.5 feet wide and weighing almost 2,400 pounds, the world's largest tea pot was produced by Sultan Tea set in the Morocco town of Meknes.
World's Largest Iced Tea
Naturally, this record would be set in the Southern US in the town of Summerville, South Carolina. The town broke the record, which was recently set by Lipton Tea.  Over 2,500 gallons of iced tea filled a custom-made Mason jar.  Townspeople used 210 pounds of loose tea to make the tea.
World's Oldest Tea Leaves
China, the birthplace of tea, is home to tea leaves that are 2,100 years old. The tea leaves were found in the tomb of an Emperor. Scientific tests dated the tea leaves.
World's Largest Tea Tasting
On November 16, 2014, in Fujian China, 1,105 people participated in a tea tasting.
World's Largest Tea Mosaic
Shandong China is home to the world's largest tea mosaic, which is a large picture that consists of tea bowls.  The mosaic consists of 5,280 tea bowls of black tea with milk.